Experience the Holidays in Rustic Style
San Antonio's Most Unique Holiday Event Venue
Whether you are having a Christmas Party Luncheon or a Holiday Dinner Party, Pedrotti's Ranch will create the perfect holiday experience that you will never forget. A True Texan Holiday at the ranch with lights, Christmas trees, holiday music, and décor that will put you in the holiday spirit. Your choices are limitless! You can go from a Country Christmas setting to an elegant arrangement, or a themed holiday party. With over 20 years of event planning, we can set up almost any type of decor and arrange a wide variety of entertainment options.
Holiday spirit and entertainment
The atmosphere at Pedrotti's Ranch during the holiday season is second to none.   A few of the more popular entertainment choices include live bands or DJs, casino night, dancing, photo booths, Santa Claus, or even a private rodeo. We host the only private rodeos in San Antonio! You also have a choice of full bar service, margarita bar, or beer and wine service. Your personal event planner can help you with all the details. Happy Holidays!
Turn-Key Event Planning
Let Pedrotti's Ranch handle all the planning and coordinating for your entire event.
Seasonal Menus
Our in-house culinary team at Pedrotti's has various seasonal options and will plan the perfect meal for you and your guests.
Holiday Entertainment
We'll work with you to create memorable holiday experiences that include anything from live music to holiday bingo.
Pedrotti's Ranch can capture the event for you! Whether you'd like photos or video we have you covered.
If your Christmas or Holiday party has children as guests Pedrotti's can arrange for Mr. & Mrs. Santa Claus to greet them and hand out gifts.
One of the best and most popular forms of entertainment in all our years hosting holiday parties is a Casino Night.
Join our annual party
Small-Business Holiday Party
The Annual Small Business Christmas Party is one of the Best Events that is held at the ranch each and every year! The vision is to bring the Local Small Business Community together for a Texas Size Night at Pedrotti's Ranch. On this night, you can expect Live Music, Casino Night, Dancing, Gourmet Food, a Photo Booth, Door Prizes and So Much More! What a great way to also connect and meet new friends during the Holiday Season.
Tables are sold and reserved by Company Name. This event has grown to over 500 guests and 25 different companies in the room. Sponsorships are available.
Get tickets to our 2023 party
Book Your Own Private Holiday Party
The Holidays are a special time at Pedrotti's Ranch. Book a private party for your organization and come enjoy the Holiday decorations and spirit of the season. We have various options, big and small. We'll assist you in planning a party your guest won't forget.
Start planning your party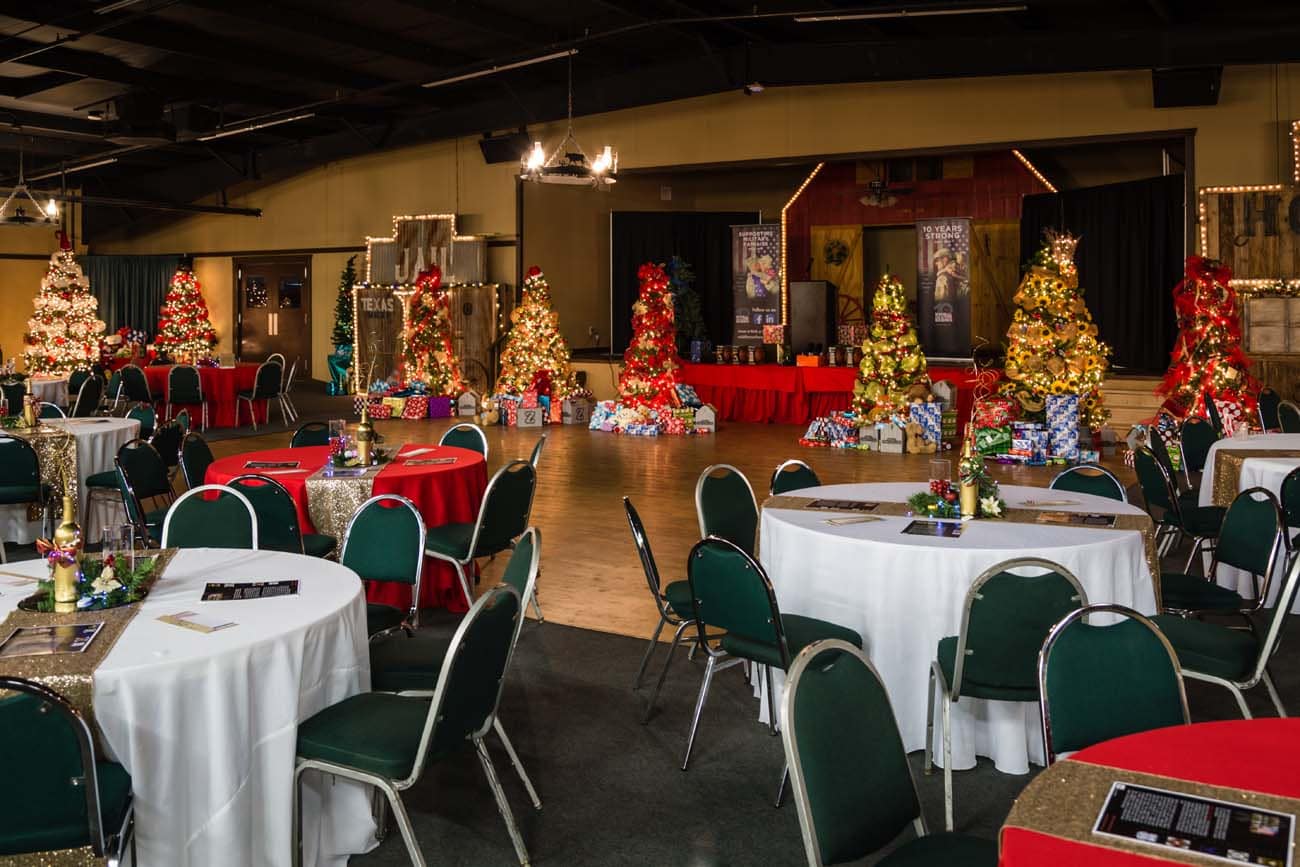 Our most frequently asked questions
Can we bring our own caterer?
Pedrotti's Ranch does all of the in-house catering prepared and served by our culinary team. Outside catering isn't currently allowed.
Do we need to bring our own decorations?
Nope! During the Christmas season, Pedrotti's Ranch turns into a winter wonderland.  The operations team decorates for nearly a month both inside and out. We are your one-stop-shop for your private Holiday event.
How many guests can we have at our Holiday party?
Pedrotti's Ranch has five unique venues that can hold anywhere from 50 – 2,500 guests.
Yes! At Pedrotti's Ranch, we have parking for over 900 cars and trucks and there no additional charges.
Can you help us with the entertainment?
Absolutely! We have been holding Christmas Parties for over 25 years. Our event planning team can help you with booking all of your entertainment, scheduling, and creating a timeline that fits your exact agenda.
How far in advance should we book our holiday event?
It's a good idea to start thinking about and planning your event 3-6 months in advance.