Facility Rental Options & Floor Plans
A map of Pedrotti's Ranch and location of each event venue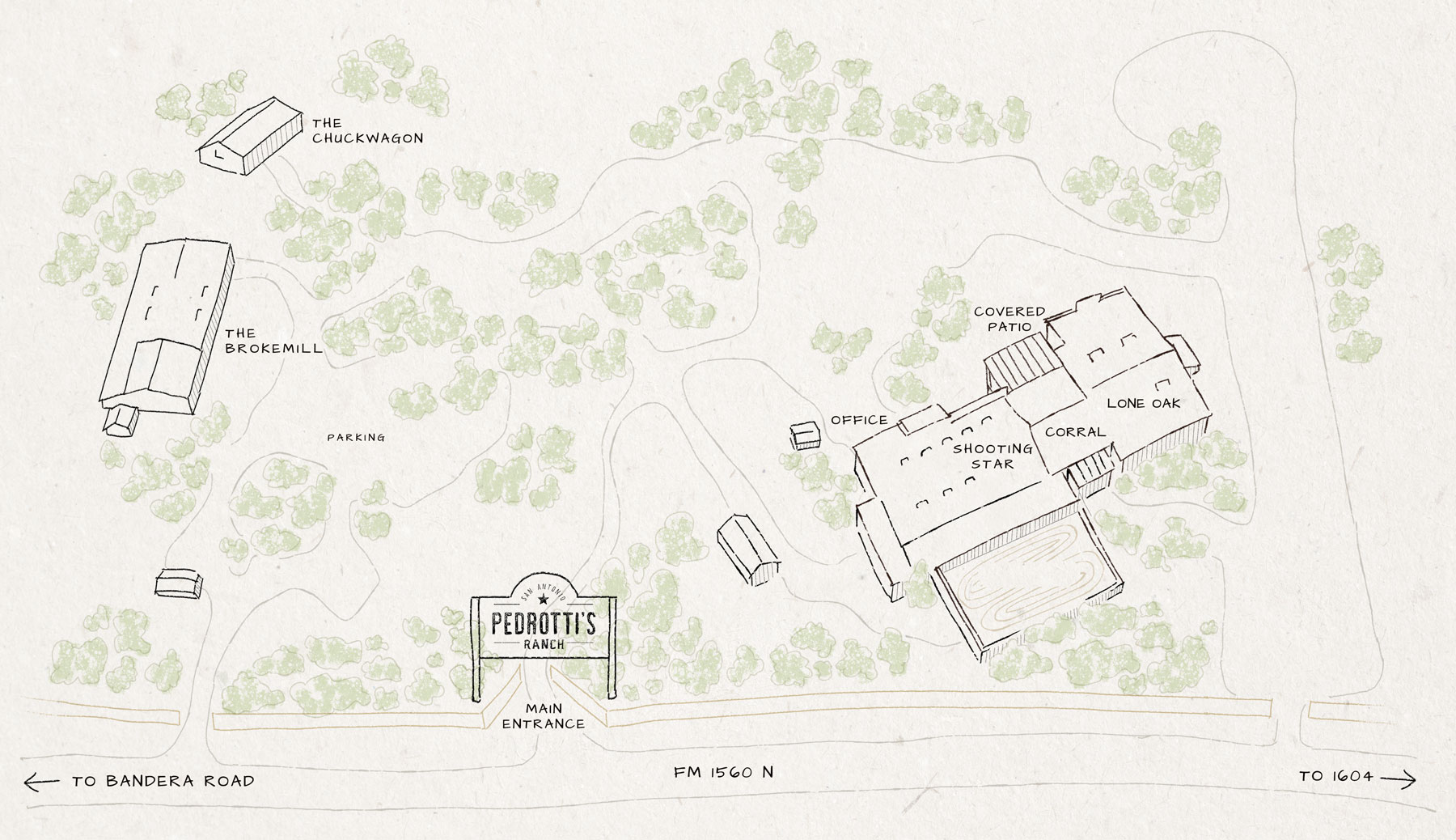 Shooting Star can be combined with The Corral and Lone Oak to make an even larger space. Also has direct access to the Rodeo Arena.
The Corral has direct access to the covered patio. Also has direct access to the Rodeo Arena.
Lone Oak is our largest space and can hold up to 900 people.
Covered Patio is the newest addition to Pedrotti's Ranch. Perfect for enjoying relaxing Texas evenings.
The Brokemill is a great space weddings and smaller parties
The Rodeo Arena is large enough to create a full-on Texas Rodeo experience for your guests.
Pedrotti's Banquet Hall
Main Facility
Whether you are planning a convention, an outdoor company retreat or an intimate wedding, Pedrotti's Ranch can host and accommodate a wide variety of groups and events.
Our facility is versatile, offering indoor seating for round table discussions to vendor booths for trade shows, to stadium style seating with a concert level stage. Outdoor options provide plenty of configurations as well. Pedrotti's Ranch offers an intimate courtyard for weddings, a covered patio area, picnic tables under mature trees and a professional rodeo arena.
Combine for even more space
Combine the Lone Oak, Corral, and Shooting Star for an extremely large space. We can accommodate just about any meeting or event size you need.
Our most frequently asked questions
Can we bring our own caterer?
Pedrotti's Ranch does all of the in-house catering prepared and served by our culinary team. Outside catering isn't currently allowed.
Where is Pedrotti's Ranch located?
Located in Helotes, northwest of San Antonio at the edge of Texas Hill Country in Bexar County. Our ranch offers plenty of room for outdoor events with scenic views and mature trees. Our indoor facilities offer dance floors, concert level stages and integrated bars and restrooms.
Many event venues in downtown San Antonio lack space for large groups and do not offer outdoor seating options or arena style seating.
Convenient to residents of the Alamo City, Pedrotti's Ranch is a destination event center only 20 minutes from the San Antonio airport and 25 minutes from the Riverwalk.
Is there a full-service bar?
Yes! At Pedrotti's Ranch, most of our indoor banquet halls feature a full size bar with many beers on draft and top shelf liquor. Our bartenders are skilled mixologists and love to craft unique cocktails for events.
What is included in a facility rental?
At Pedrotti's Ranch, we hate to nickel and dime customers, it creates a negative event experience and hassle for all parties.
Whether you book an event hall or our entire facility, we include everything needed in your package. All chairs and round tables needed to seat attendees, linens, sign in area, bar, audio/visual equipment, entertainment options and more. Once we set a date and the facility is booked with deposit, our team will plan for everything you need for a successful event.
Still Have Questions?
Let us know how else we can help.