Facilities & Floor Plans
An overview of each area and location of our Ranch.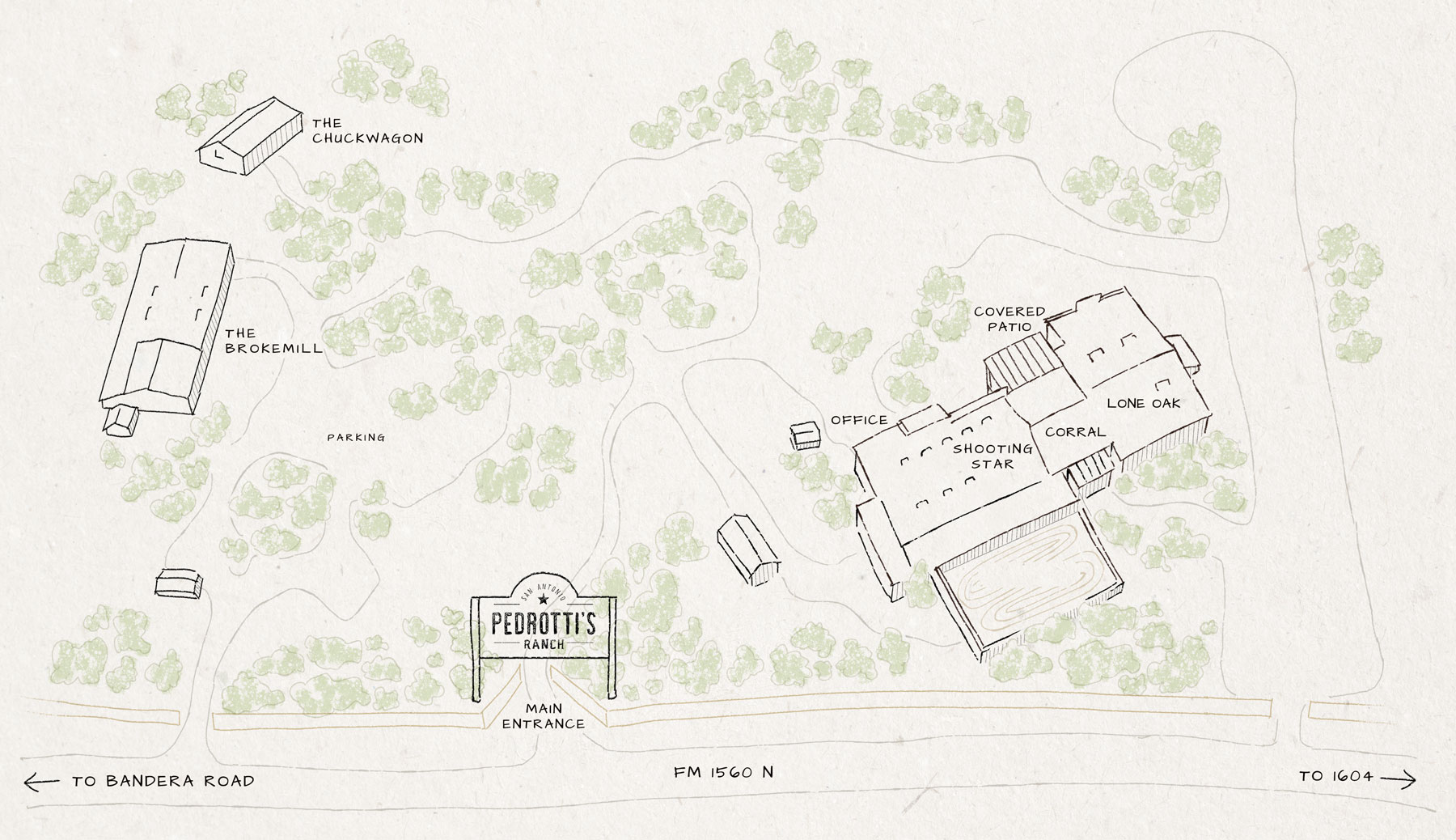 Shooting Star can be combined with The Corral and Lone Oak to make an even larger space. Also has direct access to the Rodeo Arena.
The Corral has direct access to the covered patio. Also has direct access to the Rodeo Arena.
Lone Oak is our largest space and can hold up to 900 people.
Covered Patio is the newest addition to Pedrotti's Ranch. Perfect for enjoying relaxing Texas evenings.
The Brokemill is a great space weddings and smaller parties
The Rodeo Arena is large enough to create a full-on Texas Rodeo experience for your guests.
Pedrotti's Event Spaces
Main Facility
Whether you are having a Christmas Party Luncheon or a Holiday Dinner Party, Pedrotti's Ranch will create the perfect holiday experience that you will never forget. A True Texan Holiday at the ranch with lights, Christmas trees, holiday music, and décor that will put you in the holiday spirit.
Combine for even more space
Combine the Lone Oak, Corral, and Shooting Star for an extremely large space. We can accommodate just about any meeting or event size you need.
Our most frequently asked questions
Can we bring our own caterer?
Pedrotti's Ranch does all of the in-house catering prepared and served by our culinary team. Outside catering isn't currently allowed.
Do we need to bring our own decorations?
Nope! During the Christmas season, Pedrotti's Ranch turns into a winter wonderland.  The operations team decorates for nearly a month both inside and out. We are your one-stop-shop for your private Holiday event.
How many guests can we have at our Holiday party?
Pedrotti's Ranch has five unique venues that can hold anywhere from 50 – 2,500 guests.
Yes! At Pedrotti's Ranch, we have parking for over 900 cars and trucks and there no additional charges.
Can you help us with the entertainment?
Absolutely! We have been holding Christmas Parties for over 25 years. Our event planning team can help you with booking all of your entertainment, scheduling, and creating a timeline that fits your exact agenda.
Still Have Questions?
Let us know how else we can help.

Pedrotti's Ranch
13715 FM 1560 N
Helotes, TX 78023
Contact Us
(210) 695-3533
Mon-Sat: 9AM – 5PM